Tennis at Greville Smyth Park
Situated amongst huge trees in the tranquil surroundings of Greville Smyth Park (Ashton, Bristol) are the courts of GSTC. It is a friendly, social tennis club, with low membership fees, for players of all ages and abilities. It has a thriving junior section.
News
**2022/2023 Memberships are now available on the "Join us" page. All prices are frozen at 2018 levels: Full-price membership costs under £1 a week for adults - even less for everyone else!
The courts have been re-surfaced as of September 2021. They are now great to play on as well as being a beautiful sight to behold.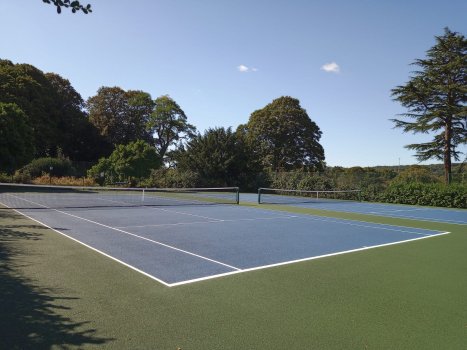 Peter Coniglio is the club coach. The coaching page explains the sessions which are on offer.
2022 AGM minutes are available upon request.
Membership
Find out about joining our club! Members have the benefits of:
FREE use of the courts (subject to allocated sessions)
FREE league match play with our team
FREE club tournaments
FREE friendly social club sessions
FREE internal tennis ladder
FREE membership of the LTA (British Lawn Tennis Association)
FREE entry to the Wimbledon ticket ballot (subject to being opted in LTA member)
Lessons from our LTA coach
Social events
The gate combination code is sent out to all members when they join, along with an invitation to join our WhatsApp adult social tennis group.
Was this page useful?